Disclosure: European Union laws require that visitors from its domain must be given information about cookies used and data collected on our blog. In many cases, these laws also require that they need to consent to the use of the cookies.Bibi1581.com does not collect data on our visitors using cookies, and it is not responsible if third parties have placed them in our content without permission. Please control cookies using your browser settings.
Bibi1581.com

"I am concerned about lowering impeachment standards to fit a paucity of evidence and an abundance of anger." — Jonathan Turley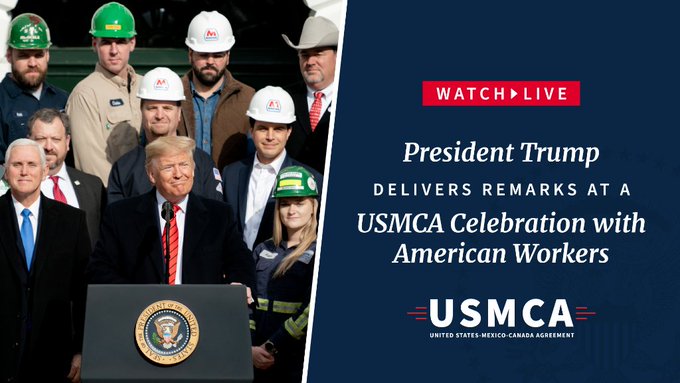 Working closely with China and others on Coronavirus outbreak. Only 5 people in U.S., all in good recovery.

17 witnesses—picked by Democrats—have already testified. But if Democrats want more, here are some suggestions
https://twitter.com/realDonaldTrump?ref_src=twsrc%5Eappleosx%7Ctwcamp%5Esafari%7Ctwgr%5Eprofile
2………….> Corona Virus US Job Creator: Out Of The Blue
US Secretary of Commerce Wilbur Ross said  that the corona-virus outbreak is a positive development for the US economy in the long run, as the virus is "another risk factor" companies will have to take into account when choosing to do business in China.
"You had SARS [severe acute respiratory syndrome]; you have the African swine virus there; now you have this. It's another risk factor that people need to take into account, so I think it will help to accelerate the return of jobs to North America – some to US, probably some to Mexico as well," he said said.
The corona-virus, which originated in Wuhan, China, in December, has claimed the lives of at least 171 individuals and infected at least 8,240.
https://sputniknews.com/us/202001301078182725-say-what-coronavirus-to-accelerate-the-return-of-jobs-to-north-america—us-official-/
3……………> The Sloppy SW Airlines: Slammed By The Feds?
Following an 18-month investigation, the FAA accused Southwest Airlines of failing to prioritize passenger safety, and also alleged that the regulator lacked proper oversight of the airline in recent years, allowing  Southwest to fly 17 million passengers on planes that had "no certified maintenance records," an example of that when a Southwest jet smashed two wingtips on the runway while attempting to land during high winds in 2019.
The report specifically referenced FAA managers at the agency's Dallas/Fort Worth, Texas, office who supervised Southwest – which is headquartered in Dallas – and allowed the airline "to fly aircraft with unresolved safety concerns." According to the audit, almost two-thirds of the 46 FAA employees interviewed during the OIG's investigation "raised concerns about the culture at Southwest."
"It is clear that the Agency is not yet effectively navigating the balance between industry collaboration and managing safety risks at the carrier," the report said of the FAA.
https://sputniknews.com/business/202001301078183047-us-airline-accused-of-flying-17-million-travelers-on-planes-with-questionable-maintenance-records/
4……………> Schiff Barbecue & Ribs Stand: Trump Or Deep State On Fire?
Democrats launched an impeachment inquiry against President Trump in autumn last year following a whistle-blower's complaint that the US president pressed his Ukrainian counterpart Zelensky to investigate former US Vice-President Joe Biden and his son Hunter regarding their business activities in Ukraine.
The US Senate is holding a question-and-answer session in Washington as President Donald Trump's impeachment trial enters its ninth day following an ultimatum by Senate Majority Leader Mitch, "Harry's Twin" McConnell that gave Democrats and Republicans 24 hours each to deliver their opening arguments (actual process took more than three days). Later, Senators were given a total of 16 hours to submit their questions in written form to House prosecutors or the White House defense team.
https://sputniknews.com/us/202001301078180150-day-nine-of-donald-trumps-impeachment-trial-in-senate—video/
5……………..> Donald Trump's Senate impeachment: Push For Final Acquittal Vote Near?
With Democrats' hopes of calling new witnesses all but dashed, Donald Trump's Senate impeachment trial could finish in the coming hours.
Republicans are pushing for a final vote — one that likely ends in the President's acquittal.
Follow all the action from the Senate chamber in our live blog below.(abc.net.au)
https://www.abc.net.au/news/2020-02-01/donald-trump-senate-impeachment-trial-final-vote-live-updates/11919096
Please visit https://bibi1581stem.blogspot.com/ to read Bibi1581 historic blogs