Disclosure: European Union laws require that visitors from its domain must be given information about cookies used and data collected on our blog. In many cases, these laws also require that they need to consent to the use of the cookies.Bibi1581.com does not collect data on our visitors using cookies, and it is not responsible if third parties have placed them in our content without permission. Please control cookies using your browser settings.
Bibi1581.com
1. "The truth is like a septic tank and the smell will eventually get out no matter how hard we tighten down the hatch."―  "The Endless Beginning"
George Sorbane books  https://www.amazon.com/s?k=George+Sorbane&ref=nb_sb_noss
1…………> Today's White House Tweets
Donald J. Trump
@realDonald Trump
Democrats are now the party of high taxes, high crime, open borders, late-term abortion, socialism, and blatant corruption. The Republican Party is the party of the American Worker, the American Family, and the American Dream!
#KAG2020

After years of rebuilding OTHER nations, we are finally rebuilding OUR nation. We are finally putting AMERICA FIRST!
#KAG2020

Under my administration, we will NEVER make excuses for America's enemies – we will never hesitate in defending American lives – and we will never stop working to defeat Radical Islamic Terrorism!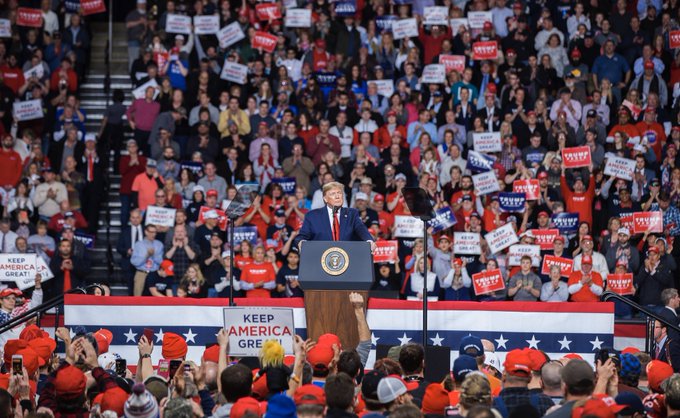 LIVE: President Trump in Toledo, OH
https://twitter.com/realDonaldTrump?ref_src=twsrc%5Eappleosx%7Ctwcamp%5Esafari%7Ctwgr%5Eprofile
2…………> Jihadist Bomb Teacher: Brooklyn, New York
 Asia Siddiqui was sentenced to 15 years' imprisonment by United States District Judge Sterling Johnson Jr. for her role in planning to build a bomb for use in a terrorist attack in the United States, while her co-defendant, Noelle Velentzas, pleaded guilty on Aug. 23, 2019, to a charge of teaching or distributing information pertaining to the making and use of an explosive, destructive device, or weapon of mass destruction in furtherance of a planned federal crime of violence. Velentzas is awaiting sentencing.
"With the sentence imposed by the court, Siddiqui has been held accountable for her crimes. Inspired by radical Islam, Siddiqui and her co-defendant researched and taught each other how to construct bombs to be used on American soil against law enforcement and military targets," said Assistant Attorney General for National Security John C. Demers. "They were thwarted by the excellent work of the agents, analysts and prosecutors who are responsible for this investigation and prosecution. For this, we are grateful."
"Lives were saved when the defendants' plot to detonate a bomb in a terrorist attack was thwarted by the tireless efforts of law enforcement," said U.S. Attorney Richard P. Donoghue for the Eastern District of New York. "This is precisely the reason why countering terrorism remains the highest priority of the Department of Justice, and working with the FBI, the NYPD and our Joint Terrorism Task Force partners, we will continue to do everything possible to stay steps ahead of aspiring terrorists and their evil plans to harm Americans."
https://www.justice.gov/opa/pr/queens-woman-sentenced-15-years-imprisonment-teaching-and-distributing-information-about
3…………> Iran Shoots Down A Friendly Plane: The Evidence
Canadian Prime Minister Justin Trudeau said intelligence indicates that Iran shot down a Ukrainian jet, killing all 176 people on board, while new footage has emerged showing a midair explosion, with a video from an unknown source appears to show an explosion close to Ukraine International Airlines flight PS752's last transponder position, a bright object moving through the sky before a burst of light can be seen.
The plane went down shortly after taking off from Iran's capital Tehran, killing 63 Canadians, 82 Iranians, 11 Ukrainians and 10 Swedes.
"We have intelligence from multiple sources, including our allies and our own intelligence. The evidence indicates that the plane was shot down by an Iranian surface-to-air missile," Mr. Trudeau said.
https://www.abc.net.au/news/2020-01-10/canadian-pm-says-intelligence-shows-iran-shot-down-ukraine-plane/11857086
4…………> Trump In Pelosi's Chains: War Powers
The US House of Representatives approved a meaningless resolution to limit President Donald Trump's ability to make war on Iran, passing the Democratic-run chamber 224-194, but having no chance in the Republican-held Senate.
It aims to mandate congressional approval for any conflict with Iran, except in cases of an imminent attack against the US, despite that neither the US nor Iran has declared plans for further military action.
The proposal cited the 1973 War Powers Act, which granted Congress the ability to check the president's power to commit the US to armed conflict.
.
https://www.bbc.com/news/world-us-canada-51053200
5…………> Market Report for 01/09/2019: long sell stop 28450:CG 50, 11/21/2020
Stocks up 212 to 299574, DJ futures +55, gold down to 1549.4 and USD/CHF at 0.98, short position close for a loss of 18 dollar 27768, new position long 27750, sell stop 28450 for a gain of 650 DIA points.
Read "Ziban Must Die" for more details on the coming collision of Trump's administration with "Deep State" operators funded by the billionaires' supporters of the "New World Disorder".
Please visit https://bibi1581stem.blogspot.com/ to read Bibi1581 historic blogs