Disclosure: European Union laws require that visitors from its domain must be given information about cookies used and data collected on our blog. In many cases, these laws also require that they need to consent to the use of the cookies. Bibi1581.com does not collect data on our visitors using cookies, and it is not responsible if third parties have placed them in our content without permission. Please control cookies using your browser settings.
Bibi1581.com  21410 registered subscribers
.
.
George Sorbane Quotes: "Hey Americans, he screamed furiously at the drones. Brothers of the wolf, sisters of the wind, children of the Sun! Send the Choctaw warrior a quick and merciful death, instead of abandoning us into slavery or shameful capture", Ziban Must Die.

Read for free
Sorbane
's remarkable story of a
Bulgarian
family
providing help and comfort to a dying
American
spy
, a kindness that sent them on a harrowing escape through the
Iron Curtain
, with
KGB
in close pursuit.
https://www.amazon.in/Endless-Beginning-George-Sorbane-ebook/dp/B00F8H78SM/ref=sr_1_8?dchild=1&qid=1602030872&refinements=p_27%3AGeorge+Sorbane&s=digital-text&sr=1-8
.
George Sorbane kindle books https://www.amazon.in/Kindle-Store-George-Sorbane/s?rh=n%3A1571277031%2Cp_27%3AGeorge+Sorbane
.
1…………> Today's White House Tweets
.
Donald J. Trump @realDonaldTrump
.


The Republican coalition is bigger, more diverse, and more energetic than ever before—thanks to President
. His efforts to reach every demographic has positively expanded the future of the GOP. Join me for a news conference starting soon.
Live | House Republican Leader
Subscribe to our mailing list * indicates required Email Address * First Name Interest Areas Border Security Education Energy Foreign Affairs Health Care Jobs and the Economy Pro-Life Issues Veterans…
republicanleader.house.gov
Donald J. Trump
Joe Biden is a corrupt politician who has done nothing but betray you for 47 long years – selling out to lobbyists, China, big pharma & foreign countries. He will stab you in the back. He only cares about political power & he will use that power to hurt you & enrich his cronies!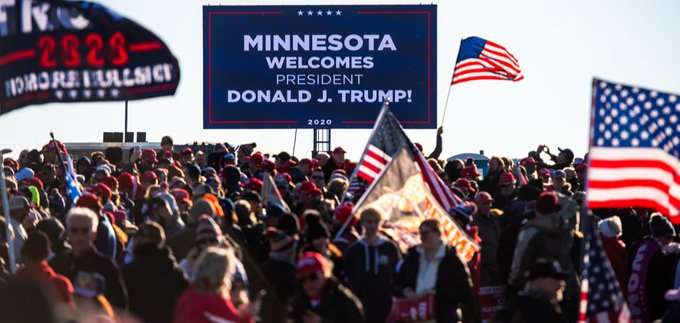 Joe Biden is a corrupt politician. He wants to send YOUR jobs to China, while his family rakes in millions from the Chinese Communist Party. If Biden wins, China will OWN the USA. When we win, YOU win, Wisconsin wins, and AMERICA wins! #VOTE

Senator
delivers for Mississippi! She helped us Cut your Taxes, Secure our Border, and Defend the Second Amendment. Cindy's opponent, Mike Espy, is a Corrupt Politician who will Raise your Taxes and Open your Borders! Vote for Cindy! #MSSEN
Cindy Hyde-Smith for US Senate
Chip in to stand with a rock-solid conservative for Mississippi


Watch the
on
at 10:00 P.M. He will importantly be talking about the corruption of Joe Biden.
and Larry Kudlow were great tonight!

Not my Wall, which will soon be finished (and Mexico will pay for the Wall!). Totally unrelated, but I think Steve will be just fine. By the way, is this the same job hopping Tim O'Brien that headed Mini Mike Bloomberg's humiliating 2 Billion Dollar Presidential run? Debate prep!

"When he was fired, he not only lost his job, he lost his mind." – Donald Trump on Steve Bannon, 2018. Since then, federal authorities have filed fraud charges against Bannon for a bogus fundraising scheme for Trump's southern border wall. Only the best people. twitter.com/warroompandemi…

Very proud of the
, my former "hometown newspaper". They have said and shown what everyone knows about Sleepy Joe Biden. He is a CORRUPT POLITICIAN!!!


Proud citizens like you helped build this Country—and together, we are taking back our Country. We are returning power to YOU, the American People!
#MAGA


The Economy is about ready to go through the roof. Stock Market ready to break ALL-TIME RECORD. 401k's incredible. New Jobs Record. Remember all of this when you VOTE. Sleepy Joe wants to quadruple your Taxes. Depression!!! Don't let it happen!
#MAGA

The Democrats are very proud!

Yep 3 Supreme Court Justices & 3 Nobel Peace Prize nominations… Hmmm…I'd say this is pretty darn good… The Left is upset that
@realDonaldTrump
has not started any new wars… The never Trumpers are upset that he has lived up to his campaign promises… Strange times… twitter.com/realDonaldTrum…

It's the only way they know!

Democrats are laundering their (admittedly weak) anti-religious smear of Amy Coney Barrett through Emma Brown, the same reporter they used to launch their massive and media-coordinated anti-Kavanaugh operation that so many Americans found so despicable. twitter.com/bethreinhard/s…
https://twitter.com/realDonaldTrump?ref_src=twsrc%5Eappleosx%7Ctwcamp%5Esafari%7Ctwgr%5Eprofile
.
2

…………>

 Georgia Correctional Officer Pleads Guilty to Civil Rights Offense for Assaulting Inmate
.
Brian Ford, 23, a correctional officer at the Valdosta State Prison (VSP) in Valdosta, Georgia, pleaded guilty today to one count of using excessive force against an inmate housed at the facility. According to documents filed in connection with the guilty plea, on Dec. 29, 2018, Ford, while on duty as a correctional officer at VSP, struck an inmate with his fist multiple times while the inmate was handcuffed and lying on the ground. Specifically, Ford and other prison officials escorted the handcuffed inmate to an outdoor area on the grounds of the prison for the purpose of assaulting the inmate in retaliation for a previous altercation between the inmate and a female officer. Ford and another officer, carrying out a directive from a supervisor, took the inmate to the ground and struck him multiple times in the body. The inmate was handcuffed and compliant at the time of the assault:
"These acts are egregious for any person to commit, let alone a member of our law enforcement," said Assistant Attorney General Eric Dreiband for the Civil Rights Division.
"It is the duty of law enforcement to uphold the law and protect others, not dole out punishment as they see fit. The Department of Justice takes these acts seriously and works tirelessly to ensure that officers who violate the civil rights of others are held accountable."
.
https://www.justice.gov/opa/pr/georgia-correctional-officer-pleads-guilty-civil-rights-offense-assaulting-inmate
.
3…………> Operators of California Charity Scam Sentenced to Prison for Mail Fraud Conspiracy and Tax Evasion
.
Geraldine Hill and Clayton Hill, a California couple who operated a charity that purported to provide goods to the needy, were sentenced to prison for conspiracy to commit mail fraud and tax evasion, and  selling over $1 million in donated clothes for their personal benefit, with Geraldine Hill sentenced to 15 months in in prison, and Clayton Hill  sentenced to 9 months in prison according to court documents and statements made in court.
The Hills operated On Your Feet (OYF), also known as the Family Resource Center, a tax-exempt charitable organization whose stated mission was to provide assistance to low income families and individuals in need:
"The defendants defrauded the IRS and companies that donated goods in an effort to alleviate poverty and suffering among the least fortunate," said Principal Deputy Assistant Attorney General Zuckerman.
"The Tax Division is committed to investigating and prosecuting those individuals who seek to use the cover of a charity to illegally line their own pockets."
"Geraldine and Clayton Hill lied to unsuspecting donors about the direction of charitable contributions and engaged in tax fraud to cover their trail," said Jim Lee, Chief of IRS Criminal Investigation.
"Unfortunately, the donors were well-meaning organizations interested in helping the needy and this fraud prevented real people in need from receiving assistance. IRS Criminal Investigation works tirelessly to ensure that criminals like the Hills are brought to justice. In cases like these, not only do the needy of our communities suffer, but also taxpayers and the U.S. government."
On June 9, 2020, the Hills pleaded guilty to conspiracy to commit mail fraud and tax evasion.
.
https://www.justice.gov/opa/pr/operators-california-charity-scam-sentenced-prison-mail-fraud-conspiracy-and-tax-evasion
.
4…………> The Silent Bunch: Comrades Un, Xi & Putin
.
Congratulatory messages for United States president-elect Joe Biden have flown in from around the world following his projected win against President Trump, but several leaders have chosen to stay tight-lipped over the victory — and their silence is indicating that Mr. Biden will inherit a long list of foreign policy challenges from his predecessor, including the ongoing trade war with China and the stalled denuclearization of North Korea.
While some leaders, including those of European nations, have applauded Mr. Biden's win in the hopes it might undo some of his predecessor's foreign policy decisions, others appear to be hesitant.
"Analysts generally are not clear on whether Biden's policies towards China will soften or adjust, but at least I think it's possible a future Biden administration will do away with the performative aspect of Trump's stance towards China," said Hu Xijin, the editor of China's state-owned tabloid Global Times.
Brendan Thomas-Noone, foreign policy research fellow at the University of Sydney's United States Studies Centre, said the US's hardening stance towards China dated back to at least 2014.
"I think the contours of that relationship aren't going to revert back [to the way it was]," he told the ABC.
"But I think we will find the Biden administration will really try to re-establish some form of strategic dialogue with China, likely in its first year."
.
https://www.abc.net.au/news/2020-11-10/world-leaders-staying-silent-on-us-president-elect-joe-biden-win/12866588
.
 5…………> A New COVID19 Infection US Record: Watch Out?
.
Hospital beds across the US were filled with around 59,000 COVID-19 patients, a new record for the number of inpatients being treated for the disease, an indication that the number of Americans with COVID-19 who are currently hospitalized has increased by around 73% over the past 30 days, surpassing the previous record, with many states reporting 1.5 million tests performed and nearly 119,000 new cases.
Colorado's intensive care unit (ICU) beds are also rapidly filling up, with 82% of such beds in the state in use and more than 1,000 COVID-19 patients hospitalized as of Monday.
"What is frightening to me is that the community rates continue to increase," said Dr. Connie Savor Price, chief medical officer at Denver Health, 9News reported.
"Our surge is about two weeks behind that. So, I'm not seeing any relief anytime soon.
.
https://sputniknews.com/us/202011101081121576-not-seeing-any-relief-us-covid-19-hospitalizations-hit-new-record-as-cases-surge—reuters/
 6…………> A Message Of Peace
.
Leave the madness behind and listen to the music of eternal peace and hope, Christus Vincit circa 1982.
.
.
Please visit https://bibi1581stem.blogspot.com/ to read Bibi1581 historic blogs
Ziban Must Die https://www.amazon.com/dp/B00U1QG1UQ
A Bedouin caravan traveling through the Negev desert stumbles onto the body of dying Mossad agent, Adnan Al Harirri, a momentous event that warns Western Intelligence about Chechen followers of the wayward cleric Abdul Rahman Abudaev being in possession of an MWMD, (Miniature Weapon of Mass Destruction), capable of creating enough phosgene gas to kill thousands of people in a relatively closed space. When a subliminal interrogation of a Hezbollah pilot reveals the conspiracy "Ziban must die", a maddening race explodes in the search of the assassins, search laced with terror, blatant treachery in the highest levels of World Governments, and questions about future of our democracy that will surely put ice water in the veins of anyone who gets across the Machiavellian dream of the New world Order, Order without sacred religions or beloved Constitutions.