Disclosure: European Union laws require that visitors from its domain must be given information about cookies used and data collected on our blog. In many cases, these laws also require that they need to consent to the use of the cookies.Bibi1581.com does not collect data on our visitors using cookies, and it is not responsible if third parties have placed them in our content without permission. Please control cookies using your browser settings.
Bibi1581.com
Democrats in Congress have obstructed
at every turn, but he is delivering on his promise to build the wall!
People are tired of Democrats ripping up
's SOTU, yelling at each other over who is more of a shill for Communist dictators, who can kick 200M Americans off their health plans, who can spend trillions more. So true,
!

My two great friends. Proud of you both!
.
@realDonaldTrump
, we want to say Thank you for being the best President ever. Thank you for being our voice and Thank you for paving the way for all Americans to have an opportunity at obtaining the American Dream. We Love you so much more. God Bless You.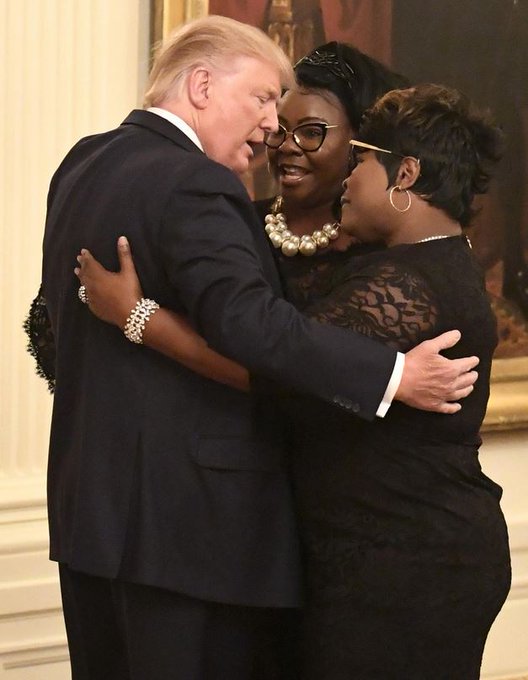 Eric, I can live with that!
ERIC BOLLING
To be honest.. I'm
@realDonaldTrump all the way. But… if I had to live in an America with one of the Dems as Potus at this point I believe it would be @PeteButtigieg. He seems smart, even tempered and as moderate as any on the stage. Holds his own with career pols.
https://twitter.com/realDonaldTrump?ref_src=twsrc%5Eappleosx%7Ctwcamp%5Esafari%7Ctwgr%5Eprofile
2…………> Georgia Candy-Man/Drug Dealer: Sweet Dreams Behind Bars?

A Georgia man, identified as Cleveland James McKinney, 30, of Atlanta, was sentenced to 151 months in federal prison, followed by five years of supervised release, for illegally transporting 41.97 kilograms of 100% pure methamphetamine and 4.5 kilograms of heroin that had been smuggled into the United States from Mexico.
"By concealing dangerous narcotics as children's candy, the defendant targeted our most vulnerable population, our youth," said HSI New Orleans SAC Jere T. Miles.
"Thanks to HSI special agents, and our partners at the Mississippi Bureau of Narcotics and the Rankin County Sheriff's Office, our communities will be safer with this criminal behind bars."
"This criminal endangered not just our citizens but our children, stooping so low as to disguise this poison as candy just so he could make a quick buck, caring not that it would cause damage, destruction and death in our communities. Because of the great work of our federal, state and local law enforcement, as well as our prosecutors, this criminal will not be peddling these toxins to our kids or anyone else anymore," said U.S. Attorney Hurst.
https://www.ice.gov/news/releases/georgia-man-sentenced-transporting-drugs-disguised-childrens-candy
3…………> President Trump Plays "Cool": While Infections Go Up World-Wide
After a spectacular India visit, President Trump said the corona-virus situation is "well under control", but health officials contradicted him by warning the virus will spread and may severely disrupt daily life.
Brazilian dancing party in the streets has come to an end, and corona-virus has arrived, several European countries have announced their first corona-virus cases, all apparently linked to the growing outbreak in Italy, as 60-year-old teacher died overnight in a Paris hospital. He had not traveled to a virus hot-spot, had worked at a school north of Paris.
He is the second person to die from the virus in France, the first being a Chinese tourist, and the news from Italy is that all masses in the Vatican have been canceled, "El Santo Padre" is hiding in his residence, being a senior citizen most vulnerable to the new health threat.
The southern European country is one of three global hot-spots outside China – the others are Iran and South Korea.
Meanwhile, Iranian authorities have announced domestic travel restrictions for people with confirmed or suspected cases.
"Instead of quarantining cities, we are going to implement movement restrictions for those suspected of infection or those infected," Health Minister Saeed Namaki said in a press conference.
In the Islamic Sheikdom of UK, tests for corona-virus are being extended to include people displaying flu-like symptoms at 100 GP surgeries and eight hospitals across the country, and the oil giant Chevron sent 300 workers to work from home.
.
https://www.bbc.com/news/live/world-51628990
4………….> Pelosi's Hound-Dogs: Chasing "Old Fart" Bernie
The Democratic presidential candidate debate in Charleston, South Carolina, re-enacted a piece of political comedy-show similar to the performance six days earlier in Las Vegas, where all sore losers ganged-up on nearest punching bag, a.k.a "Little" Michael Bloomberg, but now Bernie, "Spendie" Sanders was clearly in the cross-hairs of DNC operators/assassins squad of Ms.Buttigieg, "Pocahontas" Warren & Uncle Joe, "Sleeping in a wrong century" Biden, who was probably thinking that they all are still in Ohio.
New York Mayor Michael Bloomberg did not miss the opportunity to underline a recent report that Russia was attempting to boost Sanders's presidential campaign.
"Vladimir Putin thinks that Donald Trump should be president of the United States," he said. "And that's why Russia is helping you get elected, so you will lose to him."
0.001% American-Indian die-heard Elizabeth, "Pocahontas" Warren, who had avoided  picking on Sanders so far, said they both wanted universal healthcare, but she "dug in" and "did the work" to pay for her plan, and "Bernie's team trashed me for it".
https://www.bbc.com/news/world-us-canada-51638341
5…………..> Trump Sue The Paper For Libel: The End Of The "Failing NY Times"?
"Today the President's re-election campaign filed suit against the New York Times for falsely stating the Campaign had an 'overarching deal' with 'Vladimir Putin's oligarchy' to 'help the campaign against Hillary Clinton' in exchange for 'a new pro-Russian foreign policy, starting with relief from … economic sanctions,'" declared the senior legal adviser to the Mr.Trump's re-election campaign.
"The statements were and are 100 percent false and defamatory. The complaint alleges The Times was aware of the falsity at the time it published them, but did so for the intentional purpose of hurting the campaign, while misleading its own readers in the process."
President Trump's lawsuit against the liberal news outlet for publishing an article in 2019 regarding alleged Russian interference in the 2016 US presidential election, may be the last straw before forcing the paper into bankruptcy, as the complaint was filed in the New York State Supreme court, and ultimately "aims to hold the news organization accountable for intentionally publishing false statements against President Trump's campaign."
https://sputniknews.com/us/202002261078412187-trump-2020-campaign-files-libel-lawsuit-over-new-york-times-russia-report/
Please visit https://bibi1581stem.blogspot.com/ to read Bibi1581 historic blogs