Disclosure: European Union laws require that visitors from its domain must be given information about cookies used and data collected on our blog. In many cases, these laws also require that they need to consent to the use of the cookies.Bibi1581.com does not collect data on our visitors using cookies, and it is not responsible if third parties have placed them in our content without permission. Please control cookies using your browser settings.
Bibi1581.com
1. "The important papers the Founders left us were the most significant writings in recorded history after the Holy Books, a magic trek for peace and guidance in times of trouble, a forgotten and often ignored dimension of the Nation founding."― George Sorbane,
George Sorbane books  https://www.amazon.com/s?k=George+Sorbane&ref=nb_sb_noss
1…………> Today's White House Tweets
Donald J. Trump
@realDonald Trump


"The Senate acquitted President Trump of both charges fabricated by Congressional Democrats, led by Speaker Pelosi and Adam Schiff, to carry out the most egregious and partisan attack against any president in our history – a man they knew to be innocent."

"This President has done more for African Americans in this Country than any President since Lincoln."
Donald J. Trump

Retweeted

Dan Scavino Jr.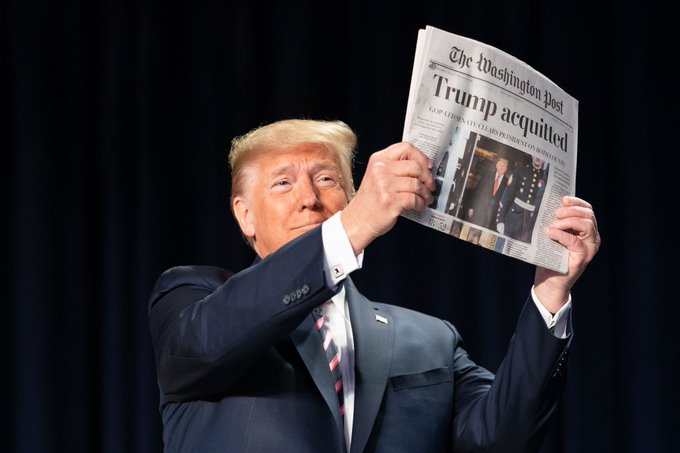 https://twitter.com/realDonaldTrump?ref_src=twsrc%5Eappleosx%7Ctwcamp%5Esafari%7Ctwgr%5Eprofile
2…………> Trump Or Pelosi: Who's The Defender Of The Fate
President Trump and House Speaker Nancy Pelosi took jibes at each other a day after his acquittal in the impeachment proceedings.
Speaking at the White House, he called her a "horrible person" and took issue with her and Mitt Romney's use of prayer and faith, while Pelosi criticized his "dangerous" behavior.
On Wednesday, the Senate voted to clear him of abuse of power and obstruction of justice.
https://www.bbc.com/news/world-us-canada-51408352
3…………> Victory Celebration vs Revenge On Deep State: Trump
President Trump celebrated his victory one day after his impeachment acquittal, unleashing a White House artillery barrage against his political enemies:
"I've done things wrong in my life, I will admit… but this is what the end result is," he said as he held up a newspaper headlined "Trump acquitted". We went through hell, unfairly. We did nothing wrong," he said at the White House. "It was evil, it was corrupt.Now we have that gorgeous word. I never thought it would sound so good," Mr Trump said from the East Room, which was crammed with supporters and cabinet officials. It's called 'total acquittal'."
Mr. Trump was impeached by the House of Representatives in December for abuse of power and obstruction of Congress, but was acquitted on Wednesday after a two-week trial in the Republican-controlled Senate, which did not include any witnesses, then used a politically incorrect word to describe the justice department inquiry into whether his 2016 election campaign had colluded with the Kremlin:
"It was all bullshit," he said.
"This should never happen to another president ever."
https://www.bbc.com/news/world-us-canada-51407233
4…………> Corona Virus Raging In China: Pneumonia Cases Up

An outbreak of pneumonia, caused by a newly discovered strain of corona-virus, is blamed for rising number of deaths from the so-far incurable corona-virus in mainland China currently at 636, over 31,100 have been infected, while 1,540 have been discharged:
"As of midnight on 6 February [16:00 GMT Thursday], the National Health Commission received information about 31,161 confirmed cases of pneumonia caused by a new type of coronavirus from 31 provinces [regions and municipalities]. 4,821 people are in critical condition, 636 have died, 1,540 people have been discharged from hospitals", the Health commission said in a statement.
On 6 February, 2,447 new cases were registered in the province, of which 1,501 are in Wuhan, the epicentre of the new virus outbreak.
"As of 24:00 on 6 February 2020, Hubei Province has reported 22,112 cases of pneumonia caused by the new coronavirus infection, of which 11,618 are in Wuhan. At present, 15,804 cases are still being treated in the hospital. 64,057 are still under medical observation", the statement said.
https://sputniknews.com/asia/202002061078248731-death-toll-from-new-coronavirus-in-chinas-hubei-province-rises-to-618-over-22100-people-infected/
5…………> Market Report for 02/06/2020: sell stop 28950:CG 1400, 11/21/2020
Stocks up 89 to 29379, futures -39, gold up to 1571.1, USD/CHF at 0.98, last position short 28850, cover short stop closed on gap at 28550 for a gain of 300 DIA points, new position long DIA 28550, sell stop at 28950 for a gain of 400 points.
Read "Ziban Must Die" for more details on the coming collision of Trump's administration with "Deep State" operators funded by the billionaires' supporters of the "New World Disorder".
Please visit https://bibi1581stem.blogspot.com/ to read Bibi1581 historic blogs