Disclosure: European Union laws require that visitors from its domain must be given information about cookies used and data collected on our blog. In many cases, these laws also require that they need to consent to the use of the cookies.
Bibi1581.com does not collect data on our visitors using cookies, and it is not responsible if third parties have placed them in our content without permission. Please control cookies using your browser settings.
Bibi1581.com
1…………Today's White House Tweets: President Trump
Direct message
More…..
WOW – THANK YOU TENNESSEE!
Instagram.com/realDonaldTrump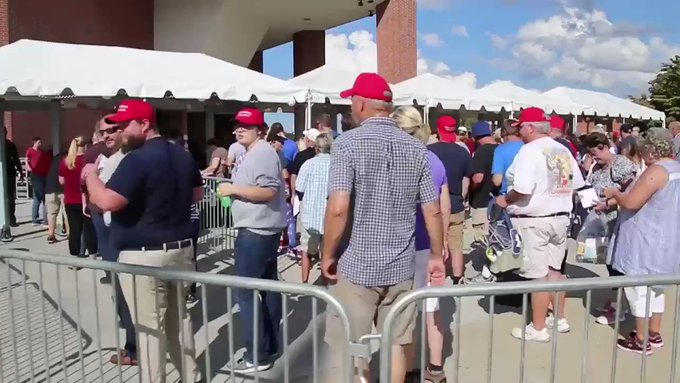 Thank you Tennessee – I love you!
Thank you Tennessee – I love you!

2…………> FBI "Free Reign":Trump
President Trump ordered the FBI to conduct a "very comprehensive investigation" into sexual assault allegations against his Supreme Court nominee, but not a "witch hunt", contradicting a "Fake News" report suggesting the White House wanted to restrict the inquiry into Judge Brett Kavanaugh.
Mr Trump said he had requested that the FBI be given free rein, but added: "I'd like it to go quickly."
Judge Kavanaugh's friend Mark Judge has been interviewed by agents.
A lawyer for Mr Judge – a childhood friend of Mr Kavanaugh – said on Monday that his client's interview "has not been completed".
On Monday, Senate Majority Leader Mitch McConnell said the upper chamber would vote this week on whether to confirm Judge Kavanaugh to the Supreme Court.
.
.
.
3…………> Lost Civilization: India
Ancient rock carvings, aka  petroglyphs, have been discovered in their thousands atop hillocks in the Konkan region of western Maharashtra,  in the Ratnagiri and Rajapur areas, with images etched on the rocky, flat hilltops remained unnoticed for thousands of years. Most of them were hidden beneath layers of soil and mud, the sheer variety of the rock carvings depicting animals, birds, human figures and geometrical designs.
Based on the site evidence experts believe that they were created in prehistoric times and are possibly among the oldest ever discovered. 
"Our first inference from examining these petroglyphs is that they were created around 10,000BC," the director of the Maharashtra state archaeology department, according to senior scientist Tejas Garge.
4…………>  Laser "Anti-Sub" Satellite: China
A powerful laser satellite capable of targeting submarines loitering the ocean 1500 feet below the surface, is in the cross-hair of China military scientists, a break-trough from the current maximum depth of 600 feet.
Beijing's new crush-effort is headed by the Pilot National Laboratory for Marine Science and Technology in Shandong Province, with additional 20 institutes and universities around the country close in tow.
5…………> Market Report 10/01/2018, sell stop 26350, CG(12,302), 11/22/17
Extended position at 24400, sell stop 25400 for a gain of 1000 DIA points closed. Short post established at 25380, covering short at 25300 for an increase of 80 DIA points. New position extended 25300, sell stop at 26350 for a gain of 1050 DIA points.
Stocks up 193 to 26651, DJ futures +25, attempt to stage a short covering rally continuing due to anti-tariff talks with China.
Gold down to 1195.10 and USD/CHF at 0.98 due to President Trump setting tariffs on Chinese products. Translation? As the dollar goes down, we have to wait and see if the new Fed Chair Jerome Powell will continue pressuring gold and the Eurasian block with it down below $1000/oz in an economic WW3. Watch sell stop at 26,350.
 We have to wait and see if new Fed chair Powell will attempt to destroy Eurasian block by sending gold prices below 1000, despite the fact both Russia and China have been buying their whole gold production in local gold backed currency instead of money printing machines. In other words, US has lost controls of the precious metals complex, and with Trump's infrastructure and tax cut campaign the National debt will soon be at, or over 30 trillion dollars, since D.C. swamp alligators have no intention dropping their pet projects. Read "Ziban Must Die" for more details on the coming collision of Trump's administration with "Deep State" operators funded by the billionaires' supporters of the New World Disorder.
Please visit https://bibi1581stem.blogspot.com/ to read Bibi1581 historic blogs