Disclosure: European Union laws require that visitors from its domain must be given information about cookies used and data collected on our blog. In many cases, these laws also require that they need to consent to the use of the cookies. Bibi1581.com does not collect data on our visitors using cookies, and it is not responsible if third parties have placed them in our content without permission. Please control cookies using your browser settings.
Bibi1581.com  19888 registered subscribers
.
.
George Sorbane Quotes: "Hey Americans, he screamed furiously at the drones. Brothers of the wolf, sisters of the wind, children of the Sun! Send the Choctaw warrior a quick and merciful death, instead of abandoning us into slavery or shameful capture", Ziban Must Die.

Read for free
Sorbane
's remarkable story of a
Bulgarian
family
providing help and comfort to a dying
American
spy
, a kindness that sent them on a harrowing escape through the
Iron Curtain
, with
KGB
in close pursuit.
https://www.amazon.in/Endless-Beginning-George-Sorbane-ebook/dp/B00F8H78SM/ref=sr_1_8?dchild=1&qid=1602030872&refinements=p_27%3AGeorge+Sorbane&s=digital-text&sr=1-8
.
George Sorbane kindle books https://www.amazon.in/Kindle-Store-George-Sorbane/s?rh=n%3A1571277031%2Cp_27%3AGeorge+Sorbane
.
1…………> Today's White House Tweets
.
Donald J. Trump @realDonaldTrump
.

Thank you Martinsburg, Pennsylvania!
#MAGA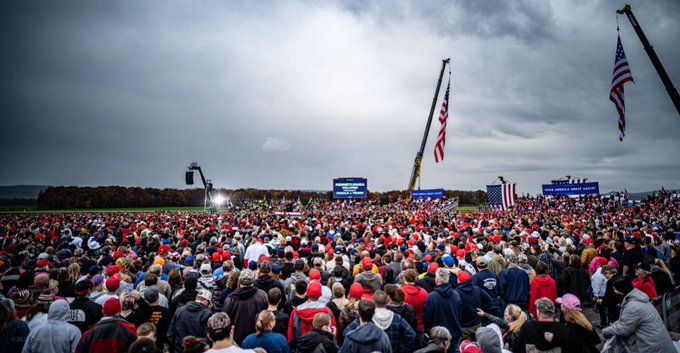 Team Trump (Text VOTE to 88022)
LIVE: President Donald Trump in Martinsburg, PA

#Pennsylvania

Text VOTE to 88022

twitter.com/i/broadcasts/1

Last week, Joe Biden made perhaps the most shocking admission ever uttered in the history of presidential debates. On live television, Joe Biden confirmed his plan to ABOLISH the entire U.S. Oil Industry—that means NO fracking, NO jobs, and NO energy for Pennsylvania Families!
Senator
delivers for Mississippi! She helped us Cut your Taxes, Secure our Border, and Defend the Second Amendment. Cindy's opponent, Mike Espy, is a Corrupt Politician who will Raise your Taxes and Open your Borders! Vote for Cindy! #MSSEN
Cindy Hyde-Smith for US Senate
Chip in to stand with a rock-solid conservative for Mississippi


Watch the
on
at 10:00 P.M. He will importantly be talking about the corruption of Joe Biden.
and Larry Kudlow were great tonight!

Not my Wall, which will soon be finished (and Mexico will pay for the Wall!). Totally unrelated, but I think Steve will be just fine. By the way, is this the same job hopping Tim O'Brien that headed Mini Mike Bloomberg's humiliating 2 Billion Dollar Presidential run? Debate prep!

"When he was fired, he not only lost his job, he lost his mind." – Donald Trump on Steve Bannon, 2018. Since then, federal authorities have filed fraud charges against Bannon for a bogus fundraising scheme for Trump's southern border wall. Only the best people. twitter.com/warroompandemi…

Very proud of the
, my former "hometown newspaper". They have said and shown what everyone knows about Sleepy Joe Biden. He is a CORRUPT POLITICIAN!!!



Proud citizens like you helped build this Country—and together, we are taking back our Country. We are returning power to YOU, the American People!
#MAGA


The Economy is about ready to go through the roof. Stock Market ready to break ALL-TIME RECORD. 401k's incredible. New Jobs Record. Remember all of this when you VOTE. Sleepy Joe wants to quadruple your Taxes. Depression!!! Don't let it happen!
#MAGA

The Democrats are very proud!

Yep 3 Supreme Court Justices & 3 Nobel Peace Prize nominations… Hmmm…I'd say this is pretty darn good… The Left is upset that
@realDonaldTrump
has not started any new wars… The never Trumpers are upset that he has lived up to his campaign promises… Strange times… twitter.com/realDonaldTrum…

It's the only way they know!

Democrats are laundering their (admittedly weak) anti-religious smear of Amy Coney Barrett through Emma Brown, the same reporter they used to launch their massive and media-coordinated anti-Kavanaugh operation that so many Americans found so despicable. twitter.com/bethreinhard/s…
https://twitter.com/realDonaldTrump?ref_src=twsrc%5Eappleosx%7Ctwcamp%5Esafari%7Ctwgr%5Eprofile
.
2…………> Outbound Deportation Train Ready: ICE
.
WASHINGTON – U.S. Immigration and Customs Enforcement can now expedite the removal of certain aliens thanks to a recent order issued by the U.S. Court of Appeals for the D.C. Circuit, Sept. 30, 2020. The court order mandates the removal of the July 27, 2019, preliminary injunction which was the only legal impediment to ICE in enforcing former Acting Secretary of Homeland Security Kevin K. McAleenan's July 23, 2019, Designation of Aliens for Expedited Removal. Expediting removals will help keep dangerous criminals from entering communities to potentially reoffend.
"Our ability to implement this important statutory tool will further enable us to protect our communities and preserve the integrity of our nation's congressionally mandated immigration laws," said Tony Pham, Senior Official Performing the Duties of ICE Director.
All ICE officers, special agents and attorneys must complete required web-based training before they can implement the July 2019 expedited removal designation.
.
https://www.ice.gov/news/releases/ice-implements-july-23-2019-expedited-removal-designation
.
3…………> COVID19 Fraudster Caught: DOJ
.
A Seattle man pleaded guilty today to one count of wire fraud for carrying out a scheme to defraud several COVID-19 relief programs.
Acting Assistant Attorney General Brian C. Rabbitt of the Justice Department's Criminal Division, U.S. Attorney Brian T. Moran of the Western District of Washington, Special Agent in Charge Weston King of the U.S. Small Business Administration Office of Inspector General's (SBA-OIG) Western Region, Treasury Inspector General for Tax Administration (TIGTA) J. Russell George, and Special Agent in Charge Raymond Duda of the FBI's Seattle Field Office made the announcement.
Baoke Zhang, 35, of Issaquah, Washington, pleaded guilty to one count of wire fraud before U.S. Magistrate Judge Brian A. Tsuchida of the Western District of Washington.
As part of his guilty plea, Zhang admitted that he carried out a scheme to defraud several different government and private COVID-19 relief programs intended to assist those facing financial difficulties due to the ongoing pandemic. 
Zhang admitted that he submitted four fraudulent applications to three different lenders for forgivable loans under the Paycheck Protection Program (PPP), a SBA program that provided payroll assistance to small businesses.  To support the loan applications, Zhang used fake entities for which he created fake payroll and tax records.  Two of the fraudulent loan applications sought $600,000 each, a third application sought $325,000, and a fourth sought approximately $41,000.  Zhang also submitted a fraudulent application to the SBA for an Economic Injury Disaster Loan (EIDL) in the name of one of the fake entities for which he also had applied for PPP loans.  The SBA paid Zhang a $10,000 EIDL advance before his fraud was detected.
Zhang further admitted that he submitted fraudulent applications to two non-profit organizations providing grants to restaurant workers suffering economic hardship due to the pandemic.  Zhang submitted the various applications in the names of Zhang, his wife, and his parents, falsely claiming that each were restaurant workers who had either lost their jobs or lost wages due to COVID-19.  To support the applications, Zhang created fake letters from purported restaurant owners regarding employment and fake payroll records.  In fact, neither Zhang nor his wife or parents worked in restaurants.  Zhang obtained $1,500 from one of the non-profits before his fraud was detected.
.
https://www.justice.gov/opa/pr/seattle-software-developer-pleads-guilty-wire-fraud-covid-relief-fraud-scheme
.
4………….> EU Tech Used In China's Uyghur Internment Camps
.
In the fight against coronavirus, the EU is using thermal cameras produced by Chinese tech giant Hikvision. The firm has been linked to the oppression of Uighurs and other Muslim minorities in China's Xinjiang province.
Two EU institutions are using technology produced by China's Hikvision, a firm that has been accused of providing surveillance equipment to Muslim internment camps in the country's northwest Xinjiang province.
.
https://m.dw.com/en/exclusive-eu-taps-chinese-technology-linked-to-muslim-internment-camps-in-xinjiang/a-55362125
.
5…………> Market Report for 10/26/2020: cover short stop 28600:CG 12500, 11/21/2020
.
Stocks down 650  to 27685, futures +14, gold down to 1904.1, USD/CHF at 0.92, new position short 28500, cover short stop 28600, current gain of 900 DIA points.
Read Ziban Must Die for more details on the coming collision of Trump's administration with Deep State operators, funded by the billionaires' supporters of the New World Disorder.
 6…………> A Message Of Peace
.
Leave the madness behind and listen to the music of eternal peace and hope, Christus Vincit circa 1982.
.
.
Please visit https://bibi1581stem.blogspot.com/ to read Bibi1581 historic blogs
Ziban Must Die https://www.amazon.com/dp/B00U1QG1UQ
A Bedouin caravan traveling through the Negev desert stumbles onto the body of dying Mossad agent, Adnan Al Harirri, a momentous event that warns Western Intelligence about Chechen followers of the wayward cleric Abdul Rahman Abudaev being in possession of an MWMD, (Miniature Weapon of Mass Destruction), capable of creating enough phosgene gas to kill thousands of people in a relatively closed space. When a subliminal interrogation of a Hezbollah pilot reveals the conspiracy "Ziban must die", a maddening race explodes in the search of the assassins, search laced with terror, blatant treachery in the highest levels of World Governments, and questions about future of our democracy that will surely put ice water in the veins of anyone who gets across the Machiavellian dream of the New world Order, Order without sacred religions or beloved Constitutions.