Disclosure: European Union laws require that visitors from its domain must be given information about cookies used and data collected on our blog. In many cases, these laws also require that they need to consent to the use of the cookies.
Bibi1581.com does not collect data on our visitors using cookies, and it is not responsible if third parties have placed them in our content without permission. Please control cookies using your browser settings.
Bibi1581.com
Today's White House Tweets: President Trump
Great job by law enforcement in Aurora, Illinois. Heartfelt condolences to all of the victims and their families. America is with you!

President Trump Speaks on the National Security & Humanitarian Crisis on Our Southern Border

"Trying to use the 25th Amendment to try and circumvent the Election is a despicable act of unconstitutional power grabbing…which happens in third world countries. You have to obey the law. This is an attack on our system & Constitution." Alan Dershowitz. @TuckerCarlson

.@PressSec: President Trump will sign the government funding bill, and as he has stated before, he will also take other executive action—including a national emergency—to ensure we stop the national security and humanitarian crisis at the border.

"After The Flight 93 Election, The Vote That Saved America – And What We Still Have To Lose," by very talented Michael Anton, is a terrific read. Check it out!

Reviewing the funding bill with my team at the @WhiteHouse!
2…………> Down With Communism: Trump
Today, President Donald J. Trump and First Lady Melania Trump welcomed President Ivan Duque Marquez and First Lady Maria Juliana Ruiz Sandoval of Colombia to the White House. "We're working on many things together: the eradication of drugs in Colombia and outside of Colombia; and obviously, Venezuela," President Trump said.
"We want to work together to put an end to the brutal dictatorship that has been affecting the Venezuelan people," President Duque added.
Three weeks ago, the United States officially recognized Juan Guaido as the legitimate president of Venezuela.
"We stand with the Venezuelan people in their noble quest for freedom, and we condemn the brutality of the Maduro regime, whose socialist policies have turned that nation from being the wealthiest in South America into a state of abject poverty and despair," President Trump said in his State of the Union address last week.
To keep its word, America has imposed tough sanctions on Maduro and his corrupt associates. The Trump Administration is blocking assets in the United States controlled by Venezuela's state-owned oil company, disconnecting Maduro and his cronies from their needed revenue sources and protecting crucial assets for the future of Venezuela.
Here at home, mainstream Americans are alarmed by new calls to adopt socialism in our own country. From Venezuela to the historic horrors of Maoist China, Cuba, and the Soviet Union, socialism turns modern prosperity into primitive scarcity. Even Europe's Nordic countries—often held up by American liberals as socialist "success stories"—reveal the failure of state control: Today, living standards in the Nordic countries are at least 15 percent lower than in the United States, according to the Council of Economic Advisers.
"America was founded on liberty and independence, and not government coercion, domination, and control," President Trump told Congress last week.
"Tonight, we renew our resolve that America will never be a socialist country."
https://www.whitehouse.gov/briefings-statements/president-donald-j-trump-supports-venezuelan-peoples-efforts-restore-democracy-country/?utm_source=ods&utm_medium=email&utm_campaign=1600d
3…………> Parkland Shooting Remembered: President Trump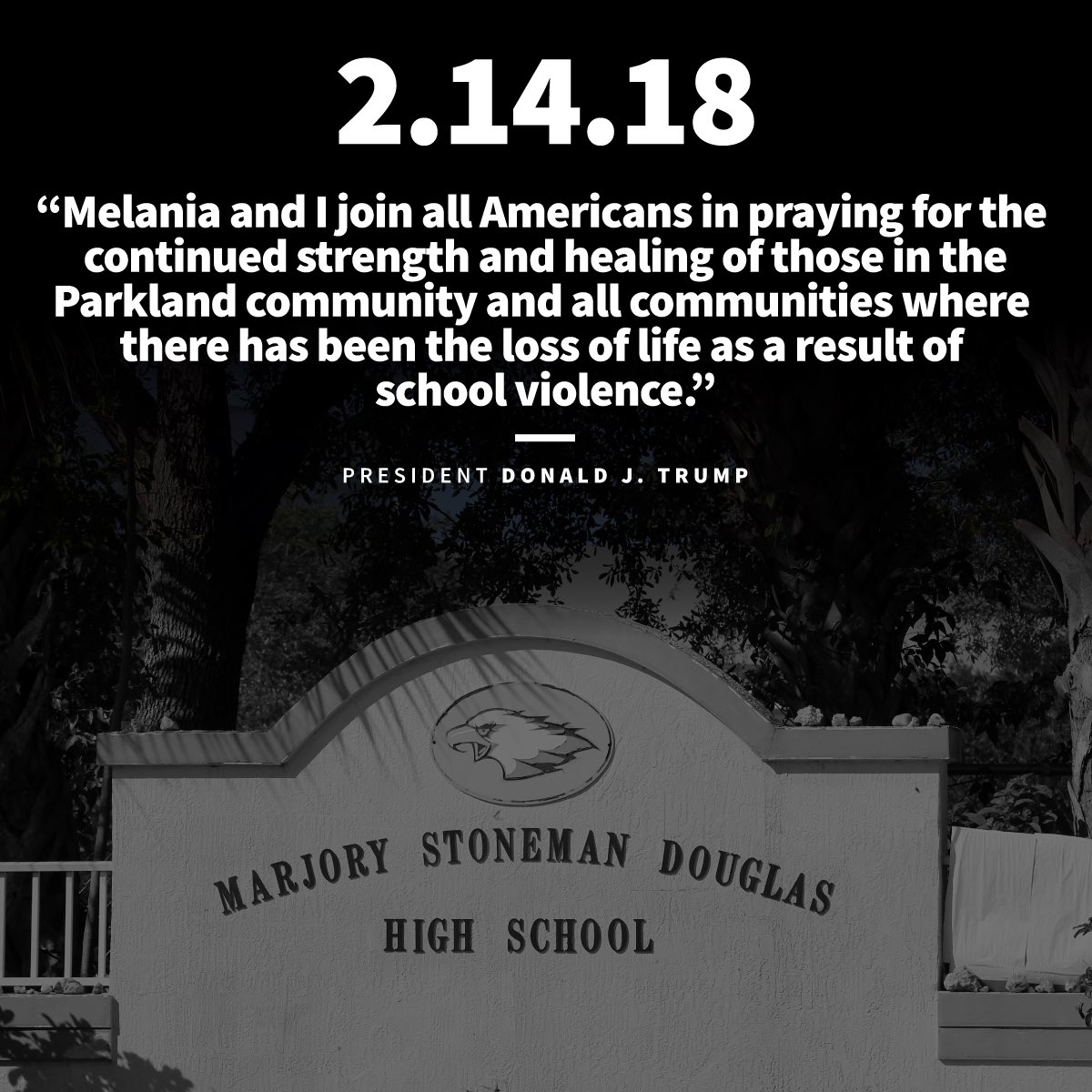 https://www.whitehouse.gov/briefings-statements/presidential-message-school-safety-remembering-parkland-tragedy/?utm_source=ods&utm_medium=email&utm_campaign=1600d
4………..>  National Emergency: Declared, Praised  & Assailed
"We're going to be signing today and registering the national emergency and it's a great thing to do because we have an invasion of drugs, invasion of gangs, invasion of people and it's unacceptable. I could do the wall over a longer period of time, I didn't need to do this. But I'd rather do it much faster", President Trump said as he declared a national emergency at the US-Mexico border, a move that is set to unleash a fight with Democrats over what they call an unconstitutional attempt to fund a wall without approval from Congress.
Democrats say they will challenge the President in court, but Mr. Trump is confident he will win any court challenge, while  Establishment Republicans are split over the move, fearing it could set a worrying precedent.
California's Attorney-General Xavier Becerra told reporters he was also willing to sue over the declaration, saying there was no emergency at the border and Mr. Trump did not have the authority to make the declaration.
https://www.abc.net.au/news/2019-02-16/donald-trump-signs-national-emergency-over-mexican-border-wall/10818528
5…………> Market Report for 02/15/2019, sell stop 25450, CG 4010,11/21/2019
Long position at 22900, sell stop at 25100 triggered for a gain of 1900 points.
Last post short 25050, cover short 25150 for a loss of 100 points, a new position long 25150, sell stop 25450 for a gain of 300 points.
Stocks up 444 to 25883,  DJ futures +13, rally continuing due to anti-tariff talks to end the government shutdown and China spending 1 trillion dollars to buy US products.
Gold up to 1325 and USD/CHF at 1.00 due to President Trump setting tariffs on Chinese products. Translation? As the dollar goes down, we have to wait and see if the new Fed Chair Jerome Powell will continue pressuring gold and the Eurasian block with it down below $1000/oz in an economic WW3. Watch sell stop at 25450.
We have to wait and see if new Fed chair Powell will attempt to destroy Eurasian block by sending gold prices below 1000, despite the fact both Russia and China have been buying their whole gold production in local gold backed currency instead of money printing machines. In other words, US has lost controls of the precious metals complex, and with Trump's infrastructure and tax cut campaign the National debt will soon be at, or over 30 trillion dollars, since D.C. swamp alligators have no intention dropping their pet projects. Read "Ziban Must Die" for more details on the coming collision of Trump's administration with "Deep State" operators funded by the billionaires' supporters of the New World Disorder.
Please visit https://bibi1581stem.blogspot.com/ to read Bibi1581 historic blogs