Disclosure: European Union laws require that visitors from its domain must be given information about cookies used and data collected on our blog. In many cases, these laws also require that they need to consent to the use of the cookies. Bibi1581.com does not collect data on our visitors using cookies, and it is not responsible if third parties have placed them in our content without permission. Please control cookies using your browser settings.
Bibi1581.com  17917 registered subscribers
.
.
George Sorbane Quotes: Not crazy are those souls who marvel at God's creation, but the ones who ridicule them.

Read for free
Sorbane
's remarkable story of a
Bulgarian
family
providing help and comfort to a dying
American
spy
, a kindness that sent them on a harrowing escape through the
Iron Curtain
, with
KGB
in close pursuit.
.
George Sorbane kindle books https://www.amazon.in/Kindle-Store-George-Sorbane/s?rh=n%3A1571277031%2Cp_27%3AGeorge+Sorbane
.
1…………> Today's White House Tweets
.
Donald J. Trump @realDonaldTrump
.


Judge Barrett is highly qualified in all the areas that matter – character, integrity, intellect, and judicial disposition. She is an outstanding #SupremeCourt nominee by President
.

For years you had a President who apologized for America – now you have a President who is standing up for America, and standing up for Pennsylvania. So get your friends, get your family, get your neighbors & co-workers, and GET OUT & VOTE! Early voting has already begun — VOTE!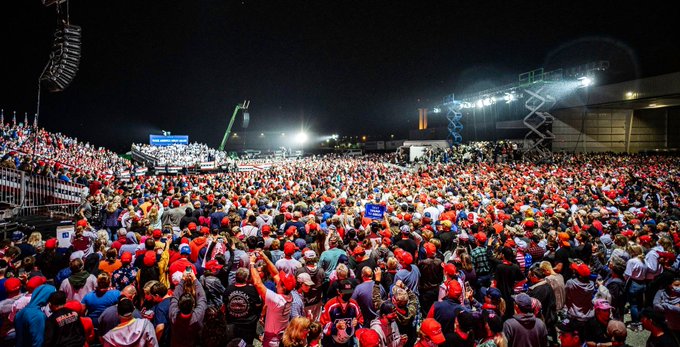 https://twitter.com/realDonaldTrump?ref_src=twsrc%5Eappleosx%7Ctwcamp%5Esafari%7Ctwgr%5Eprofile
.
2…………> Crooked Commodity Trading: Deutsche Bank
.
A Chicago federal jury found two former employees of Deutsche Bank, identified as James Vorley, 42, of the United Kingdom, and Cedric Chanu, 40, of France and the United Arab Emirates,  guilty of fraud charges for their respective roles in fraudulent and manipulative trading practices involving publicly-traded precious metals futures contracts, and convicted of three counts and seven counts, respectively, of wire fraud affecting a financial institution:
"Today's jury verdict shows that those who seek to manipulate our public financial markets through fraud will be held accountable by juries and the department," said Acting Assistant Attorney General Brian C. Rabbitt of the Justice Department's Criminal Division.
Vorley and Chanu, employed as traders at Deutsche Bank, engaged in a scheme to defraud other traders on the Commodity Exchange Inc., by placing fraudulent orders that they did not intend to execute in order to create the appearance of false supply and demand, and to induce other traders to trade at prices, quantities, and times that they otherwise would not have traded. Specifically, the evidence showed that the defendants engaged in the practice of "spoofing," which means that they placed orders on the exchange which, at the time the orders were placed, they did not intend to execute, all for the purpose of deceiving other market participants.
.
https://www.justice.gov/opa/pr/two-former-deutsche-bank-traders-convicted-engaging-deceptive-and-manipulative-trading
.
3…………> Georgia Ponzi Man: Ponzied Himself Into Cold Prison?
.
A Georgia man identified as Syed Arham Arbab, 23, of Atlanta, Georgia, has been sentenced to 60 months in prison followed by three years of supervised release for running a Ponzi scheme that ensnared over a hundred victims, and induced college students and others to part with money for his own personal benefit, as Judge Royal also ordered the defendant to pay $509,032.12 in restitution to his victims after Arbab pleaded guilty in October 2019 to one count of securities fraud.
The defendant admitted that from May 2018 through May 2019, while enrolled at the University of Georgia campus in Athens, Georgia, he solicited investors, many of whom were his fellow students, to invest in his entities, Artis Proficio Capital Management and Artis Proficio Capital Investments (collectively, APC), which he told investors were "hedge funds." Arbab admitted that he convinced approximately 117 investors in Georgia and other states to invest funds with him and APC, and that he made material misrepresentations to those investors in order to induce them to invest and maintain their investments with him.
Arbab further admitted that he spent investor funds on personal expenses, including clothing, shoes, retail purchases, fine dining, alcoholic beverages, adult entertainment and interstate travel, including spending thousands of dollars gambling during three trips to Las Vegas in 2018 and 2019.
.
https://www.justice.gov/opa/pr/georgia-man-sentenced-prison-running-ponzi-scheme
.
4…………> Trump's Nominates Amy Coney Barrett for US Supreme Court: Pelosi & Co Back To Impeach Dance?
.
"Bad, Bad" President "LeRoy" Trump picked conservative Judge Amy Coney Barrett as nominee for US Supreme Court, less than four weeks before a monumental election, in move that would immediately lead the hordes of Biden, Pelosi, "Fake News" & Co to open fire with large caliber machine guns at the enemy, and start again the "impeachment mambo" they have been dreaming about for years, just because Judge Barrett is a devout Roman Catholic and mother of seven, holds conservative religious views on abortion, and had clerked for Supreme Court Justice Antonin Scalia:
"Her qualifications are unsurpassed and her record is beyond reproach," Mr. Trump said.
"This should be a straightforward and prompt confirmation. It should be very easy. Good luck. It's going to be very quick!"
.
https://www.abc.net.au/news/2020-09-27/donald-trump-nominates-amy-coney-barrett-for-us-supreme-court/12685676
.
5…………> A Week In US Air Force: Photo Gallery
.
A B-1B Lancer assigned to the 345th Expeditionary Bomb Squadron sits on the ramp at Eielson Air Force Base, Alaska, before taking part in a sortie in support of a Bomber Task Force mission, Sept. 18, 2020. The 345th EBS is a Total Force Integration unit comprised of Reserve Airmen of the 489th Bomb Group and active-duty Airmen from the 7th Bomb Wing stationed at Dyess AFB, Texas. The unit operates in the same arrangement at home station, enabling it to respond quickly to the short-notice call for the emergent BTF. The missions highlight the adaptability and flexibility of the U.S. Air Force in responding to potential adversaries anywhere around the globe. (U.S. Air Force photo by Senior Master Sgt. Ted Daigle)
.
https://www.af.mil/News/Article-Display/Article/2361737/af-week-in-photos/
Read for free George Sorbane's love story "The Princess of Central Park" at
https://www.amazon.com/Princess-Central-Park-George-Sorbane-ebook/dp/B00F0W5580/ref=sr_1_3?dchild=1&qid=1601148149&refinements=p_27%3AGeorge+Sorbane&s=digital-text&sr=1-3&text=George+Sorbane
The touching love story of two Air Force brats who have lost their loved ones in the horrors of war, sunk into depression and end up homeless in Central Park, just to discover each other and find out that happiness may be just a stone throw away, yet in a direction very few would dare to consider. The story takes the reader into circles where the blind struggle for daily subsistence and sanity overrides political correctness, giving us a unique perspective of societal view with sometimes hilarious and other times dramatic accounts of human beings on the outside fringe of the American dream. A sense of silent panic converges into a sigh of relief when the happiness of two lonely and desperate people brings closure and peace to many other Central Park homeless inhabitants whose lives have been ravaged by an endless and brutal fight for survival.
.
 6…………> A Message Of Peace
.
Leave the madness behind and listen to the music of eternal peace and hope, Christus Vincit circa 1982.
.
.
Please visit https://bibi1581stem.blogspot.com/ to read Bibi1581 historic blogs