Disclosure: European Union laws require that visitors from its domain must be given information about cookies used and data collected on our blog. In many cases, these laws also require that they need to consent to the use of the cookies. Bibi1581.com does not collect data on our visitors using cookies, and it is not responsible if third parties have placed them in our content without permission. Please control cookies using your browser settings.
Bibi1581.com  20489 registered subscribers
.
.
George Sorbane Quotes: "Hey Americans, he screamed furiously at the drones. Brothers of the wolf, sisters of the wind, children of the Sun! Send the Choctaw warrior a quick and merciful death, instead of abandoning us into slavery or shameful capture", Ziban Must Die.

Read for free
Sorbane
's remarkable story of a
Bulgarian
family
providing help and comfort to a dying
American
spy
, a kindness that sent them on a harrowing escape through the
Iron Curtain
, with
KGB
in close pursuit.
https://www.amazon.in/Endless-Beginning-George-Sorbane-ebook/dp/B00F8H78SM/ref=sr_1_8?dchild=1&qid=1602030872&refinements=p_27%3AGeorge+Sorbane&s=digital-text&sr=1-8
.
George Sorbane kindle books https://www.amazon.in/Kindle-Store-George-Sorbane/s?rh=n%3A1571277031%2Cp_27%3AGeorge+Sorbane
.
1…………> Today's White House Tweets
.
Donald J. Trump @realDonaldTrump
.

Joe Biden is a corrupt politician who has done nothing but betray you for 47 long years – selling out to lobbyists, China, big pharma & foreign countries. He will stab you in the back. He only cares about political power & he will use that power to hurt you & enrich his cronies!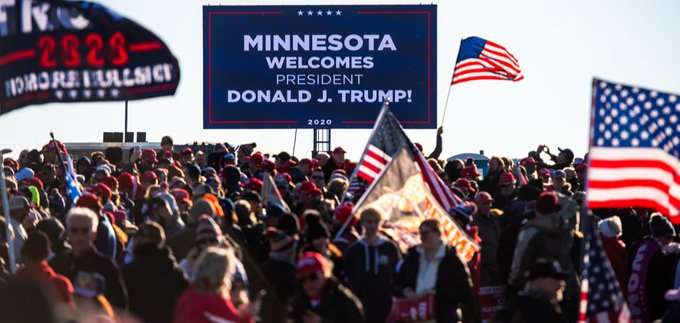 Biden has pledged a staggering 700% increase in refugees from the most dangerous and violent terrorist hot spots on earth. He has also vowed to terminate our national security travel bans, allowing for unlimited migration from war zones, and terrorist havens…

Joe Biden is a corrupt politician. He wants to send YOUR jobs to China, while his family rakes in millions from the Chinese Communist Party. If Biden wins, China will OWN the USA. When we win, YOU win, Wisconsin wins, and AMERICA wins! #VOTE

Senator
delivers for Mississippi! She helped us Cut your Taxes, Secure our Border, and Defend the Second Amendment. Cindy's opponent, Mike Espy, is a Corrupt Politician who will Raise your Taxes and Open your Borders! Vote for Cindy! #MSSEN
Cindy Hyde-Smith for US Senate
Chip in to stand with a rock-solid conservative for Mississippi


Watch the
on
at 10:00 P.M. He will importantly be talking about the corruption of Joe Biden.
and Larry Kudlow were great tonight!

Not my Wall, which will soon be finished (and Mexico will pay for the Wall!). Totally unrelated, but I think Steve will be just fine. By the way, is this the same job hopping Tim O'Brien that headed Mini Mike Bloomberg's humiliating 2 Billion Dollar Presidential run? Debate prep!

"When he was fired, he not only lost his job, he lost his mind." – Donald Trump on Steve Bannon, 2018. Since then, federal authorities have filed fraud charges against Bannon for a bogus fundraising scheme for Trump's southern border wall. Only the best people. twitter.com/warroompandemi…

Very proud of the
, my former "hometown newspaper". They have said and shown what everyone knows about Sleepy Joe Biden. He is a CORRUPT POLITICIAN!!!


Proud citizens like you helped build this Country—and together, we are taking back our Country. We are returning power to YOU, the American People!
#MAGA


The Economy is about ready to go through the roof. Stock Market ready to break ALL-TIME RECORD. 401k's incredible. New Jobs Record. Remember all of this when you VOTE. Sleepy Joe wants to quadruple your Taxes. Depression!!! Don't let it happen!
#MAGA

The Democrats are very proud!

Yep 3 Supreme Court Justices & 3 Nobel Peace Prize nominations… Hmmm…I'd say this is pretty darn good… The Left is upset that
@realDonaldTrump
has not started any new wars… The never Trumpers are upset that he has lived up to his campaign promises… Strange times… twitter.com/realDonaldTrum…

It's the only way they know!

Democrats are laundering their (admittedly weak) anti-religious smear of Amy Coney Barrett through Emma Brown, the same reporter they used to launch their massive and media-coordinated anti-Kavanaugh operation that so many Americans found so despicable. twitter.com/bethreinhard/s…
.
2…………> Will ICE Intervene In Post Election Violence?
Will a flare-up of unexpected loss from one of the highly advertised political candidate empower ICE to use the executive order by President Trump and tackle an explosion of national violence following the election? Don't bet against it.
3…………> ICE Confiscates Iranian Missiles
U.S. Navy Central Command (NAVCENT) seized the weapons from two flagless vessels in the Arabian Sea on Nov. 25, 2019 and Feb. 9, 2020, respectively. The weapons included 171 guided anti-tank missiles, eight surface-to-air missiles, land attack cruise missile components, anti-ship cruise missile components, thermal weapons optics, and other components for missiles and unmanned aerial vehicles.
4…………> US Business Preps For Post/Election Violence
Shop-owners in cities across the US are boarding up windows as they brace for unrest following the US election.
The preparations come just a few months after many businesses were hit by looters in the violent demonstrations that erupted after the death of George Floyd in the hands of police.
Retailers Saks 5th Avenue, Nordstrom and pharmacy chain CVS were among the biggest firms taking precautions.
Concerns the election will be contested have also weighed on financial markets.
However, the main US indexes closed higher on Monday, reversing course after steep falls last week.
National polls suggest a healthy lead for challenger Joe Biden over current US President Donald Trump in Tuesday's election.
But Mr. Biden's lead is narrower in the handful of states that could decide the result. Legal disputes over what votes will be counted are already under way in many states.
In 2000, when a recount fight in Florida raised uncertainty about the outcome of the US election, financial markets sank by about 5%, said Brian Gardner, chief Washington policy strategist at investment bank Stifel.
Mr. Gardner is predicting a Biden victory but warned that questions about the result and any outbreak of violence could cause a steeper fall this time around.
Walmart last week said it was temporarily removing guns and ammunition from display in thousands of its stores in the United States, citing concerns of "civil unrest". A day later, however, it reversed the decision.
In recent days, Australia's Department of Foreign Affairs updated its travel advisories, warning citizens against travel to the US in part due to anticipated violence.
"Take precautions to keep safe during the election season," it says. "Avoid areas where protests and demonstrations are occurring."
More than 96 million Americans have already cast their ballots in early voting, putting the country on course for its highest turnout in a century.
5…………> Snowden Seeks Russian Citizenship: Trump To Take A Look
Edward Snowden, the US whistleblower who is living in exile after leaking NSA files in 2013, says he and his wife are applying for Russian citizenship, as the two US nationals want to avoid separation from their child. The couple wants to apply for Russian citizenship without giving up their US citizenship.
6
…………> A Message Of Peace
.
Leave the madness behind and listen to the music of eternal peace and hope, Christus Vincit circa 1982.
.
.
Please visit https://bibi1581stem.blogspot.com/ to read Bibi1581 historic blogs
Ziban Must Die https://www.amazon.com/dp/B00U1QG1UQ
A Bedouin caravan traveling through the Negev desert stumbles onto the body of dying Mossad agent, Adnan Al Harirri, a momentous event that warns Western Intelligence about Chechen followers of the wayward cleric Abdul Rahman Abudaev being in possession of an MWMD, (Miniature Weapon of Mass Destruction), capable of creating enough phosgene gas to kill thousands of people in a relatively closed space. When a subliminal interrogation of a Hezbollah pilot reveals the conspiracy "Ziban must die", a maddening race explodes in the search of the assassins, search laced with terror, blatant treachery in the highest levels of World Governments, and questions about future of our democracy that will surely put ice water in the veins of anyone who gets across the Machiavellian dream of the New world Order, Order without sacred religions or beloved Constitutions.