Disclosure: European Union laws require that visitors from its domain must be given information about cookies used and data collected on our blog. In many cases, these laws also require that they need to consent to the use of the cookies. Bibi1581.com does not collect data on our visitors using cookies, and it is not responsible if third parties have placed them in our content without permission. Please control cookies using your browser settings.
Bibi1581.com
.
.
George Sorbane Quotes: The truth is like a septic tank and the smell will eventually get out no matter how hard we tighten down the hatch, The Endless Beginning.
.
George Sorbane kindle books https://www.amazon.in/Kindle-Store-George-Sorbane/s?rh=n%3A1571277031%2Cp_27%3AGeorge+Sorbane
.
1…………> Today's White House Tweets
.
Donald J. Trump @realDonaldTrump
.


A packed room of
#BlackVoicesForTrump
! We all gathered to celebrate the 57th Anniversary of the March on Washington. We were so honored to he joined by
@TWShannon
@AlvedaCKing
@theangiestanton
@RepVernonJones
and Dr. Robin Armstrong!
#GeorgiaGrit
#LeadRight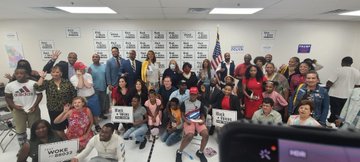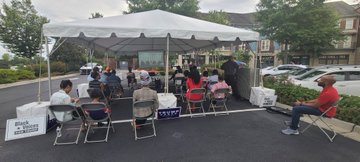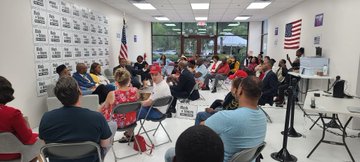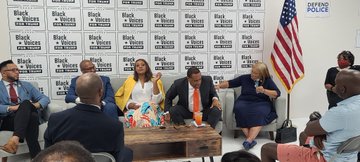 https://twitter.com/realDonaldTrump?ref_src=twsrc%5Eappleosx%7Ctwcamp%5Esafari%7Ctwgr%5Eprofile
.
2………….> Stolen Italian monastery 19th Century Painting: Recovered By ICE
.
DALLAS – U.S. Immigration and Customs Enforcement's (ICE) Homeland Security Investigations (HSI) in Dallas, Texas, recovered a 19th century painting called "the Assumption of the Virgin Mary", created by Italian artist Giuseppe Pappini in August 1851, and stolen from the Abbey of Santa Maria in Sylvis in Sesto al Reghena, Italy, in May 2002. 
HSI Dallas was able to locate the painting after receiving a tip from the HSI Attaché Office in Rome, Italy, in 2019, HSI tracked the painting to a private art collector in the Dallas-area who had purchased the painting in 2015 from a dealer who was unaware that it was stolen, and then the private collector voluntarily agreed to hand it over to HSI so that it could be repatriated to Italy and returned to the monastery:
"Investigating the loss or looting of cultural heritage properties and returning them to their countries of origin is an important part of HSI's diverse mission" said Ryan L. Spradlin, special agent in charge of HSI Dallas.
"Our specially trained investigators and attachés in more than 40 countries not only partner with governments, agencies and experts who share our mission to protect these items, but they train the investigators of other nations and agencies on how to find, authenticate and enforce the law to recover these items when they emerge in the marketplace."
.
https://www.ice.gov/news/releases/ice-recovers-19th-century-painting-stolen-italian-monastery
.
3…………..> Drug Firms GSK & Sanofi Covid-19 Vaccine Trials: In Progress
.
Drug companies GSK and Sanofi have started clinical trials of their coronavirus vaccine, by involving 440 adults onto whom would administer the vaccine at 11 sites in the US, with results
results of the trial expected by December, and if successful, will spread into on to further trials by the end of the year.
They join around 20 pharmaceutical companies holding clinical trials in the race to find a vaccine, and UK's GSK and France's Sanofi uses the same protein-based technology as one of Sanofi's seasonal influenza vaccines.
"The initiation of our clinical study is an important step and brings us closer to a potential vaccine which could help defeat Covid-19", said Thomas Triomphe, executive vice president and global head of Sanofi Pasteur.
"Our dedicated teams and partner continue to work around the clock as we aim to deliver first results in early December. Positive data will enable a prompt start of the pivotal phase 3 trial by the end of this year".
.
https://www.bbc.com/news/business-54009633
.
4…………> NZ Livestock Ship & Crew Missing Off Japan Coast: Typhoon Maysak
.
Japan's coastguard has rescued one person as it searched for a vessel with nearly 6,000 livestock and 43 crew members on board, a ship identified as Gulf Livestock 1 who had sent a distress call from the west of Amami Oshima island in southwestern Japan following strong winds and rains, after the survivor said the ship sank following Typhoon Maysak wreaking havoc in the region.
One Filipino crew member has since been rescued, after Japanese navy P-3C surveillance aircraft found him wearing a life vest and waving, and the survivor told rescuers that an engine stopped, causing the vessel to stall. The boat then capsized after being hit by a powerful broadside wave and sank, hence to save his life, he quickly put on a life jacket and jumped into the sea, currently hospitalized, but in good health, Japan's coast guard said.
The Gulf Livestock 1 left Napier on New Zealand's north island on August 14 with 5,867 cattle, heading for the Port of Jingtang in Tangshan, China. The trip was supposed to last for around 17 days, New Zealand's Foreign Ministry told Reuters news agency.
.
https://www.dw.com/en/typhoon-maysak/a-54797773
.
5…………> Dow Jones Down 807, Watch 28,000 Level Support
.
In their biggest plunge since June, US stocks sank in a huge selloffs driven by tech giant losses, suffering some of their biggest single-day losses in months, with the Dow Jones Industrial Average closing at 28,292.73, an 807.77-point loss, and the S&P 500 suffered a 125.78-point loss to close at 3,455.06. Meanwhile, the Nasdaq Composite lost 598.34 points, closing at 11,458.10.
Big losses by tech giants helped drive the stock sell-offs, as Facebook lost more than 4% of its share value, Apple and Microsoft lost nearly 7% each and Amazon and Netflix more than 5% each.
"Someone hit the 'sell tech, buy dreck' button and this is creating a bid beneath beleaguered groups, while [tech] gets pummeled," Adam Crisafulli of Vital Knowledge told CNBC.
"For tech specifically, the stocks are seeing large percent declines, but this comes after a massive recent rally. Tech has been untethered from fundamentals for a while and momentum can work in both directions."
.
https://sputniknews.com/business/202009031080360716-us-dow-plunges-807-points-tech-stocks-lead-big-sell-off/
.
Read Ziban Must Die for more details on the coming collision of Trump's administration with Deep State operators, funded by the billionaires' supporters of the New World Disorder.
.
 6…………> A Message Of Peace
.
Leave the madness behind and listen to the music of eternal peace and hope, Christus Vincit circa 1982.
.
.
Please visit https://bibi1581stem.blogspot.com/ to read Bibi1581 historic blogs