Disclosure: European Union laws require that visitors from its domain must be given information about cookies used and data collected on our blog. In many cases, these laws also require that they need to consent to the use of the cookies. Bibi1581.com does not collect data on our visitors using cookies, and it is not responsible if third parties have placed them in our content without permission. Please control cookies using your browser settings.
Bibi1581.com  22119 registered subscribers
.
.
George Sorbane Quotes: "Hey Americans, he screamed furiously at the drones. Brothers of the wolf, sisters of the wind, children of the Sun! Send the Choctaw warrior a quick and merciful death, instead of abandoning us into slavery or shameful capture", Ziban Must Die.

Read for free
Sorbane
's remarkable story of a
Bulgarian
family
providing help and comfort to a dying
American
spy
, a kindness that sent them on a harrowing escape through the
Iron Curtain
, with
KGB
in close pursuit.
https://www.amazon.in/Endless-Beginning-George-Sorbane-ebook/dp/B00F8H78SM/ref=sr_1_8?dchild=1&qid=1602030872&refinements=p_27%3AGeorge+Sorbane&s=digital-text&sr=1-8
.
George Sorbane kindle books https://www.amazon.in/Kindle-Store-George-Sorbane/s?rh=n%3A1571277031%2Cp_27%3AGeorge+Sorbane
.
1…………> Today's White House Tweets
.
Donald J. Trump @realDonaldTrump
.

Look at this in Michigan! A day AFTER the election, Biden receives a dump of 134,886 votes at 6:31AM!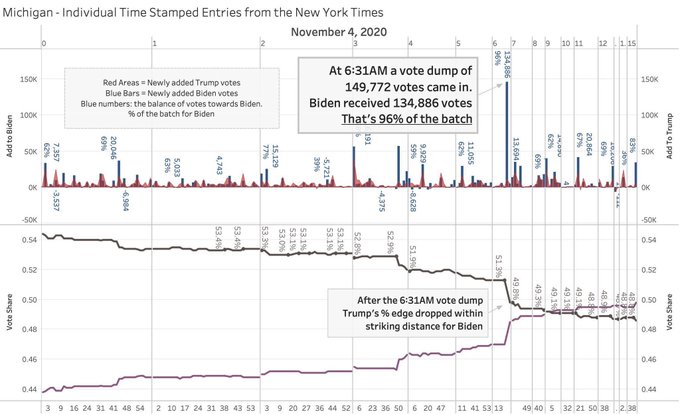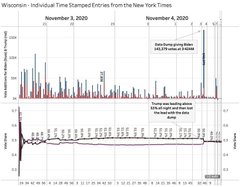 Look at this in Wisconsin! A day AFTER the election, Biden receives a dump of 143,379 votes at 3:42AM, when they learned he was losing badly. This is unbelievable!
House Republicans will STOP the fraud and abuse in American elections. The integrity of our elections must be protected!
This claim about election fraud is disputed

#BREAKING: @Jim_Jordan & @RepJamesComer call for immediate Congressional investigation into 2020 election.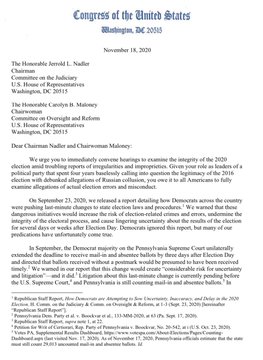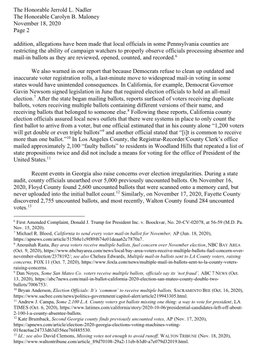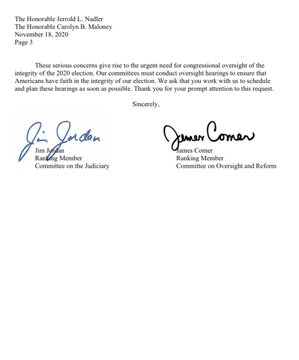 As more votes are uncovered in Georgia, this race has continued to narrow. Americans want a fair vote with an honest count — it should not be a difficult ask. Georgia's election officials owe us a legitimate election.

The Republican coalition is bigger, more diverse, and more energetic than ever before—thanks to President
. His efforts to reach every demographic has positively expanded the future of the GOP. Join me for a news conference starting soon.
Live | House Republican Leader
Subscribe to our mailing list * indicates required Email Address * First Name Interest Areas Border Security Education Energy Foreign Affairs Health Care Jobs and the Economy Pro-Life Issues Veterans…
republicanleader.house.gov
Donald J. Trump
Joe Biden is a corrupt politician who has done nothing but betray you for 47 long years – selling out to lobbyists, China, big pharma & foreign countries. He will stab you in the back. He only cares about political power & he will use that power to hurt you & enrich his cronies!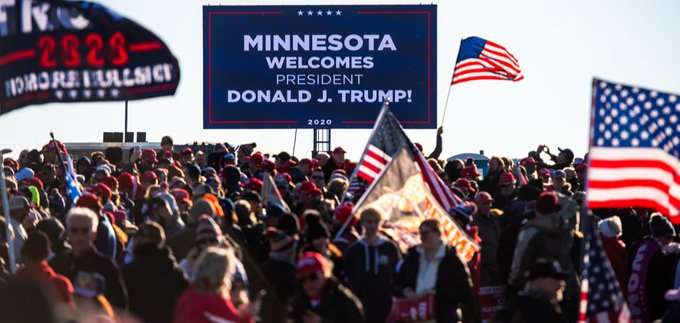 Joe Biden is a corrupt politician. He wants to send YOUR jobs to China, while his family rakes in millions from the Chinese Communist Party. If Biden wins, China will OWN the USA. When we win, YOU win, Wisconsin wins, and AMERICA wins! #VOTE

Senator
delivers for Mississippi! She helped us Cut your Taxes, Secure our Border, and Defend the Second Amendment. Cindy's opponent, Mike Espy, is a Corrupt Politician who will Raise your Taxes and Open your Borders! Vote for Cindy! #MSSEN
Cindy Hyde-Smith for US Senate
Chip in to stand with a rock-solid conservative for Mississippi


Watch the
on
at 10:00 P.M. He will importantly be talking about the corruption of Joe Biden.
and Larry Kudlow were great tonight!

Not my Wall, which will soon be finished (and Mexico will pay for the Wall!). Totally unrelated, but I think Steve will be just fine. By the way, is this the same job hopping Tim O'Brien that headed Mini Mike Bloomberg's humiliating 2 Billion Dollar Presidential run? Debate prep!

"When he was fired, he not only lost his job, he lost his mind." – Donald Trump on Steve Bannon, 2018. Since then, federal authorities have filed fraud charges against Bannon for a bogus fundraising scheme for Trump's southern border wall. Only the best people. twitter.com/warroompandemi…

Very proud of the
, my former "hometown newspaper". They have said and shown what everyone knows about Sleepy Joe Biden. He is a CORRUPT POLITICIAN!!!


Proud citizens like you helped build this Country—and together, we are taking back our Country. We are returning power to YOU, the American People!
#MAGA


The Economy is about ready to go through the roof. Stock Market ready to break ALL-TIME RECORD. 401k's incredible. New Jobs Record. Remember all of this when you VOTE. Sleepy Joe wants to quadruple your Taxes. Depression!!! Don't let it happen!
#MAGA

The Democrats are very proud!

Yep 3 Supreme Court Justices & 3 Nobel Peace Prize nominations… Hmmm…I'd say this is pretty darn good… The Left is upset that
@realDonaldTrump
has not started any new wars… The never Trumpers are upset that he has lived up to his campaign promises… Strange times… twitter.com/realDonaldTrum…

It's the only way they know!

Democrats are laundering their (admittedly weak) anti-religious smear of Amy Coney Barrett through Emma Brown, the same reporter they used to launch their massive and media-coordinated anti-Kavanaugh operation that so many Americans found so despicable. twitter.com/bethreinhard/s…
.
2…………>  Chinese Mole Discovered & Neutralized By The FBI: Raytheon Missiles & Defense
.
A Chinese national and naturalized citizen of the United States, identified as Wei Sun, 49, was sentenced to 38 months in prison by District Court Judge Rosemary Marquez after previously pleading guilty to one felony count of violating the Arms Export Control Act (AECA) during his employment in Tucson for 10 years as an electrical engineer with Raytheon Missiles and Defense. Raytheon Missiles & Defense develops and produces missile systems for use by the United States military, and the defendant had access to information directly related to defense-related technology, with some of this defense technical information constituted what is defined as "defense articles," controlled and prohibited from export without a license under the AECA and the International Traffic in Arms Regulations (the ITAR).
"Sun was a highly skilled engineer entrusted with sensitive missile technology that he knew he could not legally transfer to hostile hands," said Assistant Attorney General John C. Demers.  "Nevertheless, he delivered that controlled technology to China.  Today's sentence should stand as a warning to others who might be tempted similarly to put the nation's security at risk."
.
 .
3…………> China, Russia, Iran and North Korea: Dangerous Cybersecurity Crowd?
China, Russia, Iran and North Korea pose the greatest cybersecurity threat to Canada(and by default to US), Communications Security Establishment (CSE) intelligence agency said in a report:
"We assess that almost certainly the state-sponsored programs of China, Russia, Iran and North Korea pose the greatest state-sponsored cyber threats to Canadian individuals and organizations," the Canadian Centre for Cyber Security (Cyber Center) said.
The Cyber Center noted that while the number of actors is growing, China, Russia, Iran and North Korea present the most sophisticated threat to Canadian citizens and entities.
Russia has repeatedly refuted allegations that it engages in any malicious cyber activity aimed at foreign nations, saying that such activities go against the country's foreign policy principles and practice.

4…………> Who's President Game: Stand By For More?
Full two weeks since "Uncle" Joe, "Sleeping in a wrong century" Biden was elected the 46th president of the United States, President Trump is yet to concede defeat, with vote counting still underway, and the multiple legal challenges launched by the Trump campaign are further slowing the final tally, including claims of "massive improprieties and fraud", "dead people voting" and voting machine "glitches", with Mr. Trump firing Chris Krebs, Director of the Cybersecurity and Infrastructure Security Agency, which vouched for the reliability of the 2020 election.
Friday will mark the deadline for state certification and the scramble is on to recount votes in several states where Mr. Trump has alleged election fraud.
.
5…………> Market Report for 11/19/2020: long stop 28900:CG 15200, 11/21/2020
.
Stocks unchanged at 29483, futures -243, gold up  to 1863.1, USD/CHF at 0.92, new position long 27000, sell stop 28900 for a gain of 1900 DIA points.
 6…………> A Message Of Peace
.
Leave the madness behind and listen to the music of eternal peace and hope, Christus Vincit circa 1982.
.
.
Please visit https://bibi1581stem.blogspot.com/ to read Bibi1581 historic blog
Ziban Must Die https://www.amazon.com/dp/B00U1QG1UQ
A Bedouin caravan traveling through the Negev desert stumbles onto the body of dying Mossad agent, Adnan Al Harirri, a momentous event that warns Western Intelligence about Chechen followers of the wayward cleric Abdul Rahman Abudaev being in possession of an MWMD, (Miniature Weapon of Mass Destruction), capable of creating enough phosgene gas to kill thousands of people in a relatively closed space. When a subliminal interrogation of a Hezbollah pilot reveals the conspiracy "Ziban must die", a maddening race explodes in the search of the assassins, search laced with terror, blatant treachery in the highest levels of World Governments, and questions about future of our democracy that will surely put ice water in the veins of anyone who gets across the Machiavellian dream of the New world Order, Order without sacred religions or beloved Constitution.